Registration is CLOSED! We are at max capacity!
LOCKED
Women's Conference
Saturday, May 13th at Trinity Christian Center Church in Muleshoe, TX
Check-in starts at 9:00AM
Conference will begin at 10:00AM
This year, the LOCKED Women's Conference is going to focus on our identity. In the age we live, our culture screams definition by labels and places us in certain groups which ultimately, in the world's eyes, defines our worth. When we fall into this trap we become vulnerable to the enemy's attacks and lose focus of our true identity in Christ and the women God has called us all to be.
Our hope and vision for this conference is for us all to get
LOCKED in to our IDENTITY
and for us to do the great works for which God has called us to do in His name.
"It is in Christ that we find out who we are and what we are living for"
Ephesians 1:11(The Message).
We hope that you can join us for an impactful time of fellowship and life-giving teachings taught by our gifted guest speakers.
JOIN US SATURDAY, MAY 13th 2017
10AM - 2PM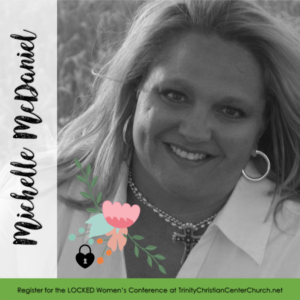 Michelle McDaniel
Lazbuddie, TX
Michelle McDaniel is a wife and mother of four girls. She and her husband, Todd, raise and train livestock on their small family farm in the Panhandle of Texas. Michelle has been actively involved in church leadership and various rolls of ministry over the past 13 years. Passionate and energized to be the best servant of Christ she can be, Michelle continues to serve the people with a heart to see healing in the area of addiction, marriages mended and blended families made whole by serving as a spiritual counselor alongside her husband. Following the loss of a child in August of 2006 to a tragic drowning accident, Michelle realized the call that God had placed on her life. It was during this season of loss and desperation that the Lord revealed how to be an over comer through God's grace and spiritual transformation. Now, Michelle is committed to sharing the principles of God's Word and the empowerment found in His promises to renew the mindset of women of all different walks of life.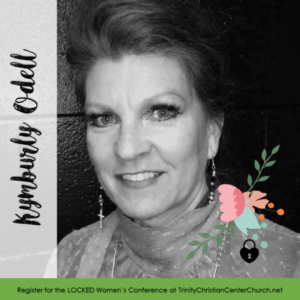 Kymburly Odell
Clovis, NM
California native, Kymburly Odell is a wife, mother, and pastor of Clovis, New Mexico's Crossroads Cowboy Church of the Nazarene. She has also been a presenter of the Love Languages seminars for over 16 years. The Love Languages book and relationship tools created by the director of Marriage and Family Life Consultants, Gary Chapman, completely changed Kymburly's family and outlook on relationships prompting her to teach seminars. She also is a Certified Analyst for Insight Ministries: Leading from Your Strengths professional and interpersonal assessment profiles. Kymburly has served in numerous ministry leadership positions and is now attending Seminary, in the Ordination course of study at Nazarene Bible College. She will graduate next year (God willing!).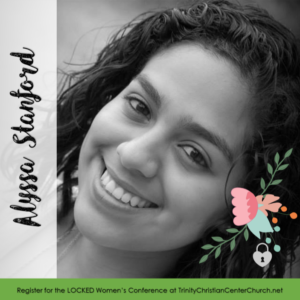 Alyssa Stanford
Muleshoe, TX
Growing up the eldest of four children in a small town, Alyssa learned from an early age to lead. Alyssa, has served in various ministry rolls the past five years alongside her husband, Josh. With a vision and a passion for fellowship within the church body, Alyssa desires church people of all different denominations and traditions to unite under one name, the name of Jesus. As the visionary for this year's LOCKED Women's Conference, Alyssa longs to see women of every walk of life come to the realization of their true and unique identity in Christ. Alyssa currently serves as a primary vocalist on her worship team and as the Women's Pastor at Trinity Christian Center Church in Muleshoe, TX.